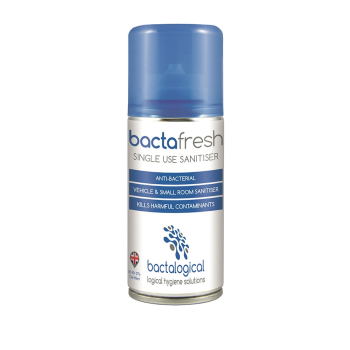 Bactafresh One Shot Anti Bacterial Air Sanitiser
Stock Code: B703
Bactafresh One Shot Anti Bacterial Air Sanitiser - Special Offer! Save 20% on a box of 12

150ml
Bactafresh is an NCC verified effective anti-bacterial sanitiser for caravans, coaches, campervans & small rooms, designed to kill harmful contaminants, cleanses air conditioning systems leaving a fresh lemon scent.
The most logical way to decontaminate a vehicle or room, quickly, cost effectively and thoroughly without any additional labour costs. Simply place the can in the space to be cleansed and press the button. Bactafresh does the rest!
Ethanol is recommended by The World Health organisation and European Centre for Disease Prevention and Control for the control of Coronavirus.
Suitable for any automotive vehicle, leisure vehicles, caravans, small rooms and boats etc.
Certified:
BS EN 1276 – Kills Bacteria
BS EN 14476 – Kills Viruses
BS EN 1650 – Kills Fungi
No detailed specifications are available for this product.
Click on any of the following links to download the file.